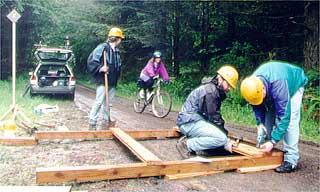 A few MRW members put together a reader-board that will guide travelers through the trails of the corridor.

Molalla River Watch members refuel after a productive day of trail maintenance.

A hiker pauses to take in the beauty of the Molalla river just below "the narrows" section of the canyon.

One of the many fantastic sites in the Corridor is the falls on Shotgun Creek, a tributary of the Molalla River.