For a printer-friendly Events List, click here...
Molalla River Watch, Inc.
Phone: 5O3-824-2195 — Email:
2017 Calendar of Events List
Last Updated August 15, 2017 4:33 PM
Molalla River Watch, Inc. Board Meetings are open to the public.
Fourth Tuesday of each month, 7 PM. Most meetings are held at the Molalla Fire Station, 320 N Molalla Ave, Molalla, OR 97038 (Map...). Occasionally these meeting days and location change, so please see notes below, call Asako Yamamuro at 503–559-0885 or email Email: to confirm meeting dates.

In addition to the calendar of events listed below, periodic Trail Work activities will be held as needed. Please call or email Bill Taylor to confirm these trail work days: Phone 5O3-829–6793 or Email: COME JOIN THE FUN!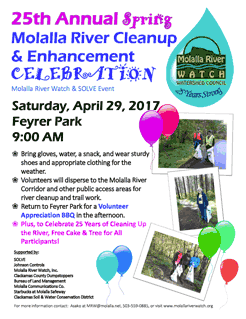 Saturday, April 29, 2017
24th Annual Fall Molalla River Cleanup & Enhancement
The event is part of the SOLVE Adopt-A-River program on the Molalla River Watch adopted river sections from Glen Avon Bridge to the Table Rock Wilderness.
Meet at Feyrer Park, 9:00 AM for registration.
Bring gloves, water, a snack, and wear sturdy shoes and appropriate clothing for the weather.
Volunteers will disperse to the Molalla River Corridor and other public access areas for river cleanup and trail work.
Return to Feyrer Park for a Volunteer Appreciation BBQ in the afternoon.
Plus, to Celebrate 25 Years of Cleaning Up the River, Free Cake & Tree for All Participants!

Directions from Hwy 211 in Molalla:
On the east side of Molalla, follow signs and Feyrer Park Rd. to Feyrer Park, next to the beautiful Molalla River.

Supported by:
SOLVE, Johnson Controls, Molalla River Watch, Inc., Clackamas County Dumpstoppers, Molalla Communications Co., Bureau of Land Management, Starbucks at Molalla Safeway, Clackamas Soil & Water Conservation District.

Register at the event, or you can pre-register online through the SOLVE webisite.

View the Flyer (PDF)

Board Meetings:
Every Fourth Tuesday of each month, 7 PM. Most meetings are held at the Molalla Fire Station.
More events coming soon...

Driving Directions
The Molalla Recreation Corridor is about 10 to 15 miles south-east of the town of Molalla, Oregon, in the western foothills of the Cascade Range mountains. NOTE: Due to the high canyon walls, cell phones do NOT usually work in the Molalla River corridor, and GPS reception is unreliable in some areas. The region consists of old logging roads, so automated maps (including Google Maps, Mapquest and GPS devices) may not work very well. These map links will assist you, but please plan ahead.
Molalla to Feyrer Park
Lat/Lon: N 45.13882, W 122.53507 (WGS-84 datum) Show in Google Maps
(Driving directions in Google Maps)
From the center of Molalla, head East on Main St. (Hwy 211). At the edge of town, turn right (South) at the "Y" intersection. Follow the sign and stay on Feyrer Park Road for about 2 miles (about 6 minutes by car). The park entrance is on the left, immediately before the bridge over the Molalla River.

Molalla to Hardy Creek Trailhead
Lat/Lon: N 45.02167, W 122.48523 (WGS-84 datum) Show in Google Maps
(Driving directions in Google Maps)
13 miles; about 30 minutes by car: Use the directions above and continue East, past Feyrer Park. Cross Feyrer Park bridge and turn right (South) on Dickey Prairie Road. Drive 1.6 miles South to Dickey Prairie Store (last chance to buy supplies!). Stay right (South) on Dickey Prairie Road and continue another 3.6 miles. Turn right (West) onto the bridge for S. Molalla Forest Road. Stay on Molalla Forest Road, following the Molalla River for 4.9 miles. The Hardy Creek Trailhead parking lot is on the right. NOTE: Some map systems will tell you to stay on west side of the river, bypassing Feyrer Park, but that part of Molalla Forest Road is private and gated.
For more information on how you can join the fun, please contact us.